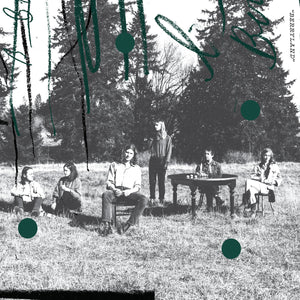 RUN FOR COVER
THE BERRIES "BERRYLAND"
Regular price
$18.95
$18.95
Unit price
per
The Berries' sophomore full-length feels like something of an oddity in 2019. It's an unabashed love letter to decades of guitar music that manages to sound fresh, it's got Americana sway and Brit rock swagger. It's an album preoccupied with the state of the world that never strays from the realm of personal; it explores the pull of extremes in an effort to find balance;and it doesn't surrender to nihilism nor pander to hopefulness. It's Berryland, and it rocks.
Matt Berry, vocalist, multi-instrumentalist, and overall mastermind of The Berries, first began to turn heads with his work in louder bands in the west coast underground music scene (Big Bite, Happy Diving), but his true love has always been unfiltered melody. "I've always been attracted to pop sensibilities and I was interested in making music that leaned more towards that instead of volume and distortion," he explains. After a handful of demos, The Berries' released their 2018 debut LP Start All Over Again, which documented a miserable Seattle winter and Berry's impressive ability to organically wear his influences on his sleeve. As he began working on a follow up, he found himself becoming more and more at ease in forging those inspirations within his own unique sonic identity.
That assured sense of identity is unmistakable on Berryland. After tracking drums with Trevor Spencer at his studio outside Seattle, Way Out, Berry began the in-depth process of recording nearly every other instrument on the album in his own home. "Every day I wake up and if I'm not working, I'm in my cave for eight hours makng music, so I was very used to spending days just working on a song," he recalls. The extra time spent tinkering and experimenting can be heard in Berryland's vast array of guitar tones, psychedelic flourishes, and layered vocal harmonies. Traces of Berry's punk roots remain in the occasional noisy guitar squall, which meets the jangle and twang with surprising cohesion. Driving all the guitars is Berryland's secret weapon: its attention to rhythm. The sense of groove and occasional electronic percussion are subtle but key elements of the album's pulse, often inspired by Berry's love of the 1990s intersection of rock and danceable beats.
All this musical freedom supports Berry's chief lyrical concerns: a desire for autonomy in the face of all the structures we create for some semblance of solid ground in an increasingly unstable world. "Everything I think about is on this spectrum," he explains. "Independent or dependent, creating rules for yourself and relying on them, or allowing yourself that personal freedom. It's really hard for me to not go insanely in one direction or another, and a lot of the record is trying to find that balance." Opening track "Makes Me Sick" sets up this dichotomy, with Berry leaning into his more nihilistic side overtop a thumping bass line and hallucinatory beat that recalls the many works of J. Spaceman. "Lowest Form Of Life" follows with a gently melancholy guitar lick and Berry lamenting the eagerness some have to put their heads in the sand and avoid the harsh realities of our modern world. Tracks like "Fruit" or "Passing Scene" are unconventional heartbreak songs that feature slide guitar and some of Berry's finest vocal harmonies -- a lilting respite before the full-on boogie of "Feral Eyes".
"D.Y.W.I.B." kicks of the B-side with Berry conjuring a cosmic singalong by way of Primal Scream and Neil Young, while elsewhere "Pedestal" jumps between alt-country strut and dirge. The back and forth between guitar bravado and somber songwriting on Berryland often mirror's the shaky internal battle between the more self-absorbed and altruistic sides of human nature in Berry's lyrics. "Hell On The Speedway" and closing track "Heavy Rain" offer a more optimistic spin on the fatalism of earlier songs. "All you can really do is try to keep going," Berry says, "You have to keep pushing whatever ethos you believe in and try to make the best of it." This a quiet sentiment might seem out of place in our complex world, but in Berryland, it sounds about right.
---
Share:
---