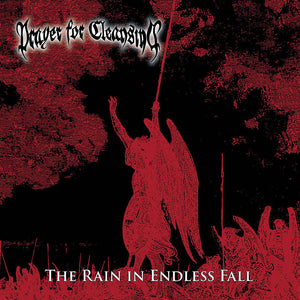 TO LIVE A LIE
PRAYER FOR CLEANSING "THE RAIN IN ENDLESS FALL"
Regular price
$44.95
$44.95
Unit price
per
North Carolina's Prayer For Cleansing was a big part of a metalcore resurgence that was happening in the southeast in the late 90's. Combining death metal vocals, super-fast intricate riffing, Iron Maiden style harmonized guitar parts, and the occasional black metal part, Prayer for Cleansing brought more sophisticated metal stylings to the straight edge hardcore world. With fellow North Carolinians Undying, the band made a name for themselves on the east coast before breaking up in 2000. The band's 1999 full length The Rain In Endless Fall became an instant classic of the genre. Members from the band notably went on to form progressive metal powerhouse record
Foregoing the polished Tribunal Records remix and remaster from 2003, To Live A Lie Records has gone back to the old school original mix and have given it a much bigger sound with a new 2022 remastered by Nick Townsend. This will be the definitive vinyl pressing of the album that will accurately archive their powerful sound and hopefully bring new ears to an amazing output.
---
Share:
---