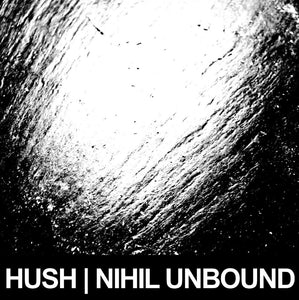 FUZZ RECORDS
HUSH "NIHIL UNBOUND"
Regular price
$4.95
$11.95
Unit price
per
In January of 2016, upstate NY sludge / crust titans HUSH digitally released the Nihil Unbound EP, which garnered widespread praise as one of the year's heaviest offerings. After nearly a yearlong wait, the band is releasing Nihil Unbound as a 12" vinyl LP in a collaborative effort between Dullest Records, Silent Pendulum Records, and Fuzz Records.
HUSH appeared in 2012, with the release of Untitled I, a seven-song EP recorded in an abandoned warehouse with a literal wall of amplifiers. Since then, the band has made a name for themselves with the 2014 release of their follow-up, full-length record Unexist and sporadic, celebrated live performances that are hailed as immersive and entrancing.
Nihil Unbound continues along the trajectory that began during Unexist and represents another foray into dark, oppressive sludge that fuses the aesthetics of crust and doom with nuances of post-metal atmosphere. The songs on the EP were written throughout 2014 and into 2015, with sessions beginning immediately after the recording of Unexist, and showcase a more stripped-down songwriting approach than the previous record, focusing on creating an environment of total bleakness, dissonance, and desolation. Thematically, the album draws heavily from writings on philosophical nihilism, including ideas presented by Nietzsche, Sartre, Schopenhauer, Meillassoux, and Brassier.
The EP was engineered and mixed by Ryan Slowey in late June 2015 at Thump Recording Studio in Brooklyn, NY, with additional recording at Empty House in Albany, NY, and mastered by Brad Boatright at Audiosiege in Portland, OR.
TRACKLIST
4. A Permanent Echo Through The Dream
5. Shattering The Great Chain Of Being
PRESSING INFO
200 - Clear w/ Black Smoke
100 - Black Cassettes w/ Alternative Artwork
---
Share:
---