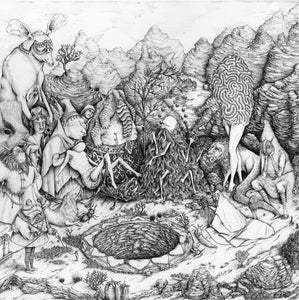 FUZZ RECORDS
HELLKEEPER "A WORLD WITHIN FLESH"
Regular price
$5.95
$5.95
Unit price
per
A World Within Flesh sees the upstate New York band bolt out of the gate with a blackened, grinding version of hardcore that Decibel likens to Rotten Sound, Deathspell Omega, and Converge.
Over galloping cavalry charges and the tidal wave riffs of guitarist Jack Xiques and bassist Terry Orlando, frontman Paul Butler's vocals seethe with pure, rabid feeling. Drummer Mike Pistone churns forward with the precision of a world-class metal drummer. Songs like "Obscure" and "Drown" are blasting, red-line assaults; "Threadbare" and "Species" shine with the added color of Butler's clean vocals.
"The album is about wanting to live in a dream world because reality is too painful," says Butler. His lyrics use literary references to paint their pictures of depression: "I utilized ideas from Hamlet and Don Delillo's White Noise, among other books."
A World Within Flesh was recorded, mixed, and mastered by Chris Bittner at Applehead Studios (Coheed and Cambria, Bad Brains, Team Sleep).
TRACKLIST
PRESSING INFO
200 - CDs housed in gatefold wallet sleeves
---
Share:
---